BOARDWALK MEMORIES VOL. 1
Featuring the beautiful Wurlitzer 157
$7.50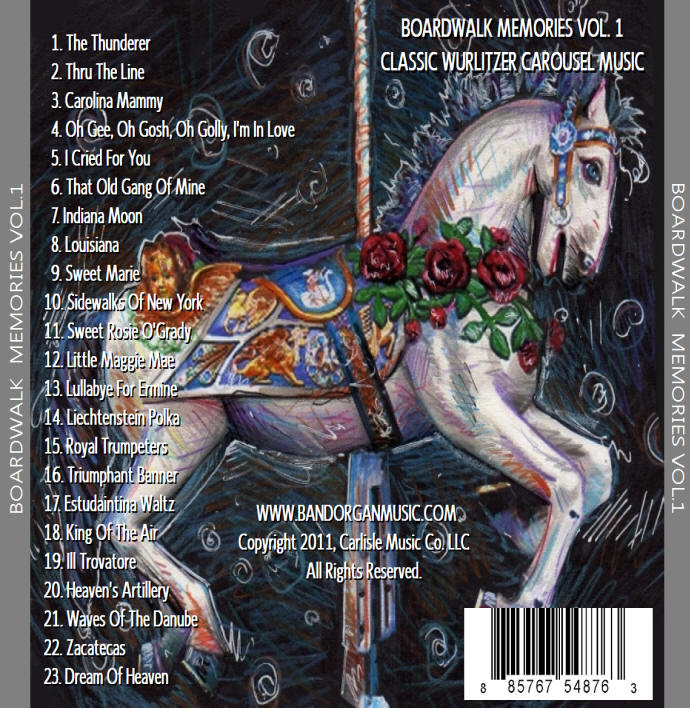 The Wurlitzer 157 is a magnificent Wurlitzer Duplex Orchestral Organ Style #157. It was originally used on a carousel on the Boardwalk at Ocean Grove, New Jersey. It was purchased by Paul Eakins and completely restored.
Playing #165 Wurlitzer rolls, it has a double tracker system, furnishing continuous music. When one roll finishes playing, the other starts and the first one rewinds.
The beautiful light cream front is heavily carved and the panels and shutter screens are painted with landscape scenes. The newel posts are painted to resemble marble columns.
The following instruments are played: Bass - 6 wood trombones; 6 stopped diapason pipes; 6 stopped octave daipason pipes. Accompaniments - 10 stopped flute pipes; 10 open flute pipes; 10 open piccolo pipes; 10 open piccolo pipes. Melody - 44 violin pipes; 22 octave pipes; 22 piccolo pipes; 22 open flute pipes; 22 stopped flute pipes; 16 bar bells. Trumpets - 14 wood trumpets; 14 wood clarinets. Traps - bass drum; snare drum; cymbal; triangle; double castanets; tympani. Automatic stops - 1 for bells; 1 for swell and wood trombones. Draw stops - 1 for wood trombones; 1 for wood trumpets; 1 for violins; 1 for flutes; 1 for piccolos.The Queen of Kings Island stands nearly 8½ feet tall, over 12 feet wide and nearly 4 feet deep.
LISTEN TO A SAMPLE