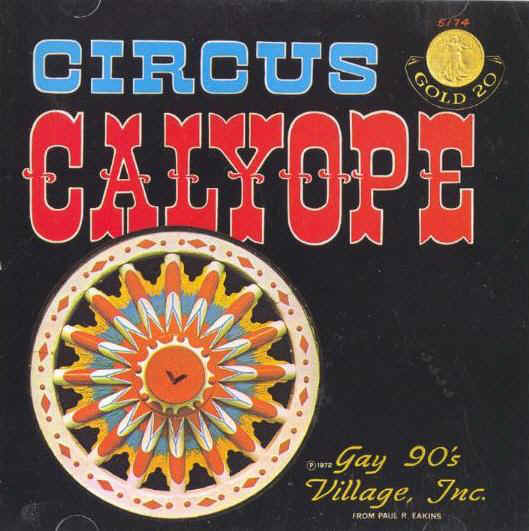 This wonderful CIRCUS CALLIOPE (CALYOPE) is a Wurlitzer Caliola with 44 wood pipes and is ideal for Circuses as it has a beautiful tone and remarkable volume. It plays from a paper roll or may be played manually from the keyboard on the back, creating beautiful musical effects. This machine was made in 1928 and uses the regular 65-note Wurtitzer roll. Operated by a 1/2 h.p. motor.
Specifications: Height to top of scroll, 5 feet 4 inches; height without scroll, 4 feet 8 inches. Width, 3 feet 7 1/2 inches; depth, 2 feet 10 inches. Weight, 435 tbs. with coun tershaft and drive wheel. 44-note keyboard for hand playing. 44 pipes.
SONGS
* COLONEL BOGEY * THAT OLD GANG OF MINE * WHEN YOU & I WERE YOUNG, MAGGIE * BEER BARREL POLKA * SMILES * IíM FOREVER BLOWING BUBBLES * AMERICAN PEP SONG * SIDEWALKS OF NEW YORK * TAKE ME OUT TO THE BALLGAME * THE MAN ON THE FLYING TRAPEZE * DARDANELLA * CALIFORNIA, HERE I COME * THE JOLLY COBBLER* MARGIE * DOWN BY THE OLD MILL STREAM * HERE COMES THE SHOW BOAT * PUT ON YOUR OLD GREY BONNET * THEY CUT DOWN THE OLD PINE TREE * HOME ON THE RANGE * IN THE GOOD OLD SUMMERTIME * WAITING FOR THE ROBERT E. LEE * BILLBOARD MARCH * MY SWEETHEART'S THE MAN IN THE MOON * 12th STREET RAG * DRIFTING TONIGHT IN DREAMLAND * LET ME CALL YOU SWEETHEART * JINGLE BELLS/ INTRO. AULD LANG SYNE * JOLLY COPPERSMITH
Listen to samples....

"12th STREET RAG"

"CALIFORNIA, HERE I COME"

"THE MAN ON THE FLYING TRAPEZE"

"HOME ON THE RANGE"

<