Cremona Orchestral Style J Orchestion
From the Yaffe Collection
Cremona Orchestral Style J Orchestrion Archive CD
-- $10.00

About This Recording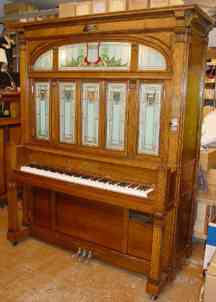 This particular Orchestral J was previously owned by Al Choffnes, Bannockburn, Illinois, and is now part of the extensive Yaffe collection located in Florida. Manufactured by the Marquette Piano Company, of Chicago, Illinois, Cremona orchestrions are noted for their mechanical durability and exceptional art-glass designs and handsome overall appearance. The Orchestra J is the largest of the Cremona orchestrions, and this specimen is a good example of a very attractive keyboard style case that is adorned by five beautiful, eye-catching art glass panels. Extant specimens have one of two distinctly different art glass styles: (1) Most commonly an intricate set of beveled glass panels laid out in a pleasing geometric design or (2) the rare opalescent art glass panels (as pictured at right). Instrumentation consists of: a full piano, with mandolin attachment, flute pipes, violin pipes, xylophone, bass drum, snare drum, triangle and cymbal. The two pipe ranks have solo capability due to an automatic register control that can turn the piano treble range on or off. The instrument plays the comparatively rare ten-tune type "M" music roll.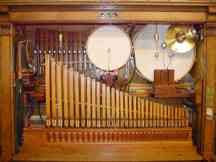 The piano in this particular specimen is #12,044, the feeder pump is signed inside by "Edw. Winleg, March 27, 1917," and the piano stack is #9250 (which probably indicates how many Cremona pianos had been made up to this date). The restoration of interior mechanical components for this beautiful Cremona orchestrion were completed in April, 2004, by Reblitz Restorations, Inc., Colorado Springs, Colorado. The cabinetry was restored and refinished by Steven Gonzales, Pico Rivera, California.
The superb quality of the original digital direct-to-CD-ROM source recordings were made in April of 2004 by Art Reblitz. The customary motor buzz and pump noises typical for large Cremona orchestrions was carefully removed during the preparation of the CD mastering data by using a complicated series of precisely tuned noise reduction filters, and it was done without interfering with the desired musical qualities of the audio signal. Here is what Art Reblitz had to say about the recording: "Your enhancements are great! I don't know how you made the pump noise disappear, but it's as if the piano were playing from a remote pump and motor!" Thus, the listener has the opportunity to enjoy the Cremona Orchestral J music without the usually distracting pump thumping, hiss and other mechanical grinding noises being present, thereby revealing tonal delicacies and expressive accents in the music that might otherwise be masked and go completely unrecognized.
Good recordings of Cremona Orchestral J orchestrions are few and far between, which sets this unique recording apart from the usual mechanical music recording fare, and it accurately embodies the usual and somewhat unique Cremona Orchestral J sound -- a sound peculiar to Cremona orchestrions using the style M music roll. The musical selections consist of popular fox trots, one-steps, waltzes and a few marches, with the rolls ranging in date from circa 1915 up through late 1927. This gives the listener an opportunity to have a sense of how mechanical music arranging evolved over the years, as musical and melodic tastes changed. For anyone who enjoys the sound of American "nickelodeon" music this CD will undoubtedly become a treasured and favorite addition to their mechanical music recording collection.
Cremona Orchestrial Style J Orchestrion
30 Tracks -- Total Time: 62:40
Roll M-687 (circa 1927)
1.
National Emblem, March
2.
Fox Trot
3.
The Sweetheart of Sigma Chi, Waltz
4.
The Big Tin Pan Parade, Fox Trot
5.
Fox Trot
6.
Fox Trot
7.
Fox Trot
8.
Waltz
9.
My Heart Stood Still, Fox Trot
10.
Pastafazoola, Fox Trot
Roll M-630 (circa 1926)
11.
Fox Trot
12.
I Ain't Got Nobody, Fox Trot
13.
I Care for Her, She Cares for Me, One-Step
14.
Waltz
15.
Fox Trot
16.
I'll Take Manhattan, Fox Trot
17.
Waltz
18.
Want a Little Lovin', Fox Trot
19.
Fox Trot
20.
Some of These Days, Fox Trot
Roll M-321
21.
March
22.
Fox Trot
23.
Waltz
24.
One-Step
25.
Fox Trot
26.
Waltz
27.
Fox Trot
28.
One-Step
29.
Waltz
30.
Fox Trot
Listen to a sample.....