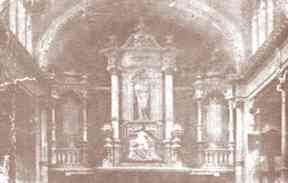 Mortier's fabulous "Taj Mahal" Dance Organ in its original location, sitting high above the dance floor in the beautiful St. Jean's Palace, Antwerp, Belgium (illustration from a circa 1924 post card).
In 1890, Theofiel Mortier, a tavern keeper, began selling automatic musical instruments made in Paris by Gavioli & Co. He would order one, display it in his cafe, sell it, and then order another machine from Paris. By 1908 Mortier had ten employees engaged in the selling and maintenance of the Gavioli instruments. Shortly thereafter, Mortier began his own factory located in Antwerp, Belgium, for which success was immediate. By 1918 a new organ left his factory every two to three weeks, and by 1920 some eighty skilled craftsmen were busy making pipes, constructing chests and carving the elaborate organ facades. The fame attained by Theofiel Mortier and the sheer architectural beauty of the facades for his company's impressive orchestrions and classic dance organs were unequaled by any other organ maker. Even so, the final destination for the output of some 4000 magnificent instruments was localized, most of the machines living out their commercially useful lifetimes in Belgium.
In 1922 the proprietors of the St. Jean's Palace, an Antwerp dance hall with an exceptionally ornate and beautiful interior, commissioned Mortier to build an organ that would be of dazzling splendor, befitting the decor of the "Palace." The newly commissioned organ, to be named after the Taj Mahal palace in India, was constructed over a period of two years in two main parts. One group of craftsmen constructed the music-producing chassis and associated mechanisms, while another group of workmen created the ornate decorative front. Approximately 700 organ pipes, divided into a wide range of musical voices, a xylophone, snare and bass drums, wood blocks, castanets, a huge temple bell or gong and other delightful effects made up the musical compliment, all of which were put into play using a key-frame consisting of 101 brass "fingers" that read the perforations in a folding cardboard music book. The "Taj Mahal" was debuted in 1924, and drew a crown of visitors from near and far.
The fabulous Mortier "Taj Mahal" dance organ as it appeared circa 1978, while on display at American International Galleries, Inc, in Irvine, California.
Regrettably, however, as with most things wonderful, as the heyday years of large dance organs waned, and technology and entertainment fashions changed, the Mortier name and his spectacular creations drifted into relative obscurity, even though quite a few Mortier organs were still operational and entertaining patrons in restaurants and pubs scattered about Belgium. These large and cumbersome instruments to move were generally considered to be relics of the past and not interesting to the new and younger crowd, who demanded newer, more modern forms of musical entertainment. Thus, there was little remaining interest in the grand old machines, until, that is, the collecting frenzy of the late 1960's, when Mortier instruments were once again widely advertised and described, thus making Mortier orchestrions and organs once again well known and very popular, albeit with latter day collecting enthusiasts.
Today, no trace of the once prodigious Mortier factory survives. All that remains of Theofiel Mortier's efforts is a sampling of restored instruments in the hands of enthusiastic collectors. The stunning Mortier organ represented here was one of two "palace" style designs, this one being completed in 1924 and installed in the ornate St. Jeans Palace in Antwerp, Belgium. The other "palace" style organ, which was originally exhibited in the Thalia dance hall in Ostend, has since been destroyed. In later years, when St. Jeans Palace was closed and then razed, the "Taj Mahal" organ was moved to the Agora dance hall in Ledeberg, Belgium. It was later yet resold to the Reseda dance hall in the market square of Zelzate, on the border between Holland and Belgium. Then, in 1952 the "Taj Mahal" sounded its last note. Needing extensive repairs it was boarded up and almost forgotten, but not completely. During the 1960s the Grymonprez family, leading Belgian organ dealers at the time, learned of the "Taj Mahal" organ, and eventually offered it to Q. David Bowers, circa 1969. The organ was immediately purchased and shipped to the U.S., where it was cleaned, set up and displayed in the spacious warehouse of Hathaway & Bowers, Inc., in Santa Fe Springs, California. It remained on display there through 1972.
The "Taj Mahal" would not utter another musical note until 1977, after restoration by Ron Cappel and his staff, and following the creation of new music books by the well-known music arranger Arthur Prinsen. Soon thereafter, in 1978, the newly restored "Taj Mahal" was recorded on location in the large wareroom of American International Galleries, Inc., in Irvine, California, where the instrument was on display (circa 1976-1980). Professionally recorded, regrettably, the original 1/4-inch analog stereo master tapes for the music on this Archive CD are no longer available. Thus, the audio had to be captured from a nearly pristine condition vinyl LP, an old recording originally issued and sold by American International Galleries, Inc.
Once the audio signal from the vinyl LP had been digitized, it was painstakingly processed to remove impulse noise (pops and ticks). Next, low frequency rumble and vinyl surface noise components were removed, followed by equalization and other processes to remedy any bias introduced by the vinyl LP recording process itself. The result, using professional quality audio restoration software, is a clear and highly enjoyable listening experience. The selection of music consists of popular tunes that were newly arranged (circa 1977) especially for the 101-key Mortier "Taj Mahal" by Arthur Prinsen.
Mortier "Taj Mahal" Dance Organ
16 Tracks -- Total Time: 35:54

1.
Wonderful Copenhagen
2.
So, What's New?
3.
Cuckoo Waltz
4.
Que Sera
5.
Tennessee Waltz
6.
Mazurka
7.
Wooden Heart
8.
Beer Barrel Polka
9.
Dixie -- Yankee Doodle Dandy
10.
Why Did I Kiss That Girl?
11.
My Wild Irish Rose
12.
Why Don't My Dreams Come True?
13.
Boogie Woogie
14.
Puppet on a String
15.
Yellow Rose of Texas
16.
When the Saints Go Marching In
Listen to a sample.....