Operator's Piano Company
Reproduco Pipe Organ
from the Roehl Collection (circa 1962 - 2000)
Reproduco "Regular" Model Pipe Organ Archive CD -- $10.00

About This Recording
Recorded circa 1968 for Hathaway & Bowers, Inc.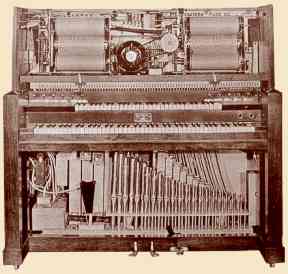 The Operator's Piano Company of Chicago, Illinois, was, and still is perhaps best known for its extensive and very popular line of Coinola brand coin-in-the-slot pianos and orchestrions. However, the company also manufactured the Reproduco, a series of self-contained "portable" pipe organs that were sold mainly to the theater trade.
During the silent movie era every theatre needed some kind of music to accompany the action on the "silver" screen. Large theatres could afford orchestras and/or large pipe organs, but the comparatively tiny "Nickelodeon" theaters could afford only small instruments, such as a "photoplayer" (a piano with operator controlled pipework, trapwork drums and various other sound effects ) or something akin to a Reproduco pipe organ.
The Reproduco first appeared in 1915, and was built as late as 1927, when the regular model specimen featured on this CD found its way from the factory to the Gem Theatre in Derry, Pennsylvania. It was used for only 2 or 3 years, when "talkies" replaced the need for it entirely, the instrument then being relegated to collecting layers of dust and grime and for vermin who used it as a comfortable home. Then, happily, in 1963 it was found and purchased by the late Harvey Roehl of Vestal, New York, whereupon it became part of the well known Vestal Press collection of automatic musical instruments.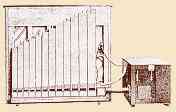 Reproduco Organs were manufactured in a variety of case styles, the "regular" model being the most common. The furniture case is fitted with a richly grained walnut veneer, with some gumwood moldings stained to match. Fortunately, the casework had not been damaged during the many years the instrument sat idle and was neglected, so that careful refinishing was all that was required to restore the instruments lustrous beauty. However, the interior mechanisms were not so easy, as several hundred hours of work went into rebuilding the various mechanical components. Each and every intricate and complicated piece of the extensive player mechanism had to be meticulously restored, with rotting cloth and leather parts replaced. Additionally, the piano was completely torn down and restrung, as well as its action being rebuilt from top to bottom. The pipework was all basically in good condition, except for a coating of grime, which a thorough cleaning easily remedied.
The "regular" model Reproduco pipe organ contains a piano and three ranks of pipes, with the largest rank being 12 big wooden Diapason pipes located on the backside of the piano, providing a wonderful foundation of tone in the bass region. Two smaller ranks of pipes, 37 metal Quintadena pipes and 49 wooden Flute pipes, are both located beneath the keybed, in the bottom of the piano casework.
The musical arrangements are both charming and cheerful, more than likely because the Reproduco was sold mainly to theaters, quite unlike some other manufacturers who sold their brand of similar organettes mainly to mortuaries, with music rolls drearily arranged for this kind of usage. This particular Reproduco has two music roll frames, so that continuous playing is possible, and which also allows the operator to have different types of "mood music" instantly available. The music rolls used are either type OS ("Organ Series") or type NOS ("New Organ Series"). The OS rolls can play for up to 30 minutes, while the NOS rolls can play up to an hour without repetition, due to having roll perforations just half the length of the OS type music rolls. To accommodate the forward difference in speed required for the two different types of music rolls the belt-pulley setup from the electric drive motor to the roll frame must be adjusted. This is accomplished by slipping the small, round leather drive belt from one set of pulley grooves to another. Both types of music rolls were manufactured by the Capitol Roll and Record Company of Chicago, a subsidiary of the Operator's Piano Company.
As is often the case with historic old recordings, the original 1/4 inch analog stereo master tapes were lost a long time ago. Thus, the audio for this compact disc was captured from mint condition vinyl LP's, old albums originally issued through Hathaway & Bowers, Inc., circa 1968-1970. Then, once the audio signal from the LP's had been digitized, it was carefully processed to remove any impulse noise (pops and ticks), low frequency rumble and vinyl surface noise components. This clean-up work was followed by equalization to remedy any bias introduced by the vinyl LP recording process itself. The final result, using professional quality audio restoration software, is a clean and very enjoyable listening experience, making this CD a worthwhile addition to any musical collection.
The musical selections range from a few slow, but melodic, tear-jerkers to a variety of energetic and happy, toe-tapping melodies. Anyone already familiar with theater pipe organs is usually surprised by how full and rich the Reproduco sounds. If you have never before heard a Reproduco, once you hear this archive CD you'll probably agree with others who have found the musical output of the comparatively "tiny" Reproduco organ to be amazing.
Operator's Piano Company - Reproduco "Regular" Model Pipe Organ
13 Tracks -- Total Time: 36:32

1.
Blaze Away, March
2.
In My Gondola
3.
Tenderly
4.
Somebody's Lonely
5.
My Pal Jerry
6.
Show That Fellow The Door
7.
At Sundown
8.
At Dawning
9.
Ah, Sweet Mystery of Life
10.
Invincible Eagle, March
11.
Frat March
12.
A Cup Of Coffee, A Sandwich, And You
13.
No More Liquor For Me
Listen to a sample.....
"A CUP OF COFFEE, A SANDWICH AND YOU! "