Style E & G "Nickelodeon" Music
Style E (Xylophone) Piano -- Style G Orchestrion
From the Hathaway & Bowers, Inc., Reference Collection
Style E & G "Nickelodeon" Music Archive CD
-- $10.00


Recorded circa 1969 - 1970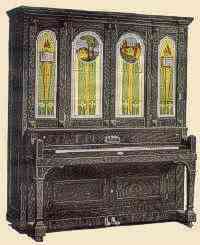 Upon entering the colorful lobby of Hathaway & Bowers, Inc., 1967 to 1972, visitors were invariably drawn to the expansive and elegantly appointed showroom, where an extensive and varied collection of restored automatic musical instruments, ranging from delicate music boxes to large and ornate orchestrions, stood ready to entertain. All of these beautiful instruments were the personal property of either Dave Bowers or Terry Hathaway, and were referred collectively as the Hathaway & Bowers, Inc., reference collection. This collection was used to demonstrate the beauty and music of many types and sizes of automatic musical devices for people who would otherwise not know what to expect from an unrestored and silent machine, such as those offered for sale. In time, the spectacular collection became famous, as did Hathaway & Bowers, Inc., and it was featured on numerous television programs. Moreover, in addition to the so-called "reference collection," there was occasionally a machine purchased for stock that, while not technically part of the reference collection, was in splendid playing condition and was therefore recorded, while it waited for a new owner to come along.
The two popular types of instruments featured on this Archive CD present a toe-tapping sampling of what many old-time automatic musical instrument collectors might happily refer to as "nickelodeon" music. Regrettably, however, the original 1/4-inch analog stereo master tapes for the music on this Archive CD were thrown out some twenty-five years ago. This meant that the audio had to be captured from several mint condition vinyl LP's, old recordings originally issued and sold by Hathaway & Bowers, Inc., circa 1969-72. Once the audio signal from the LP's had been digitized, it was painstakingly processed to remove impulse noise (pops and ticks). Next, low frequency rumble and vinyl surface noise components were removed, followed by equalization and other processes to remedy any bias introduced by the vinyl LP recording process itself. The result, using professional quality audio restoration software, is a clean and very enjoyable listening experience. The selection of music is of popular tunes and marches, tunes that visitors to the H&B showrooms enjoyed circa 1967 through 1972.
Style E -- "The Automatic Master"
As far as the once very popular A-roll type pianos go, the Style E keyboard style piano with art glass and electric lamps was a relatively late entry into the line, and was popular during the 1920's. In the case of this particular Style E, its late manufacturing date was a definite plus, since the instrument was in pristine condition when purchased by Hathaway & Bowers, Inc., and was still in quite good playing condition. Only minor repairs to the mechanical mechanisms were evident, and although the piano was a bit out of tune, it was nonetheless bright and sonorous, and is what people typically expect to hear when they think of "nickelodeon" music. Instrumentation of the Style E consists of a piano, with mandolin attachment, and a reiterating xylophone.
As was the case with many machines in "mint" condition, this one never made it to the showroom floor, it being sold to a happy customer soon after its acquisition. When recorded, it was still in the workshop area, sitting along side one of the many large work benches, where the piano was being dusted off, the casework glistening after a refreshingly light rub down with furniture oil. Inside the case, the original mechanisms, still factory bright and gleaming, continued to play out happy melodies. On the day it was recorded, a four to five hour recording session taking place in the main showroom had just concluded, and another thirty minutes of music was needed to fill out a series of LP's that were in the process of being put together. Dave Bowers suggested recording the Style E, because it sounded so good, and even more so in the huge workshop/warehouse area were there was lots of natural reverberation. So, in an unplanned moment, the durable Style E was recorded for posterity.
Style G Orchestrion -- "The Art Orchestrion"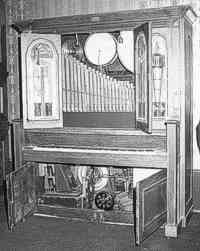 The venerable Style G Orchestrion on this Archive CD was a very popular instrument on the Hathaway & Bowers, Inc., tour, and was enjoyed by thousands of visitors over the five years the Company was in business. Belonging to Dave Bowers personally, the instrument was returned to playing condition several years before Hathaway & Bowers, Inc., was founded in 1967, while Dave Bowers was still living in Vestal, New York, not far from Harvey Roehl and his famed Vestal Press. Thus, this particular instrument played an important roll in the early and formative days of automatic musical instrument collecting.
Instrumentation of the Style G consists of a piano, with mandolin attachment, violin pipes, flute (and Piccolo) pipes, triangle, snare drum, kettle drum effect, bass drum and cymbal. The piano is equipped with a loud and soft pedal, and the drums have soft and loud stroke effects. Although the G-roll music scale is limited to only 48 playing notes, through the use of bass note octave couplers and other tricks the Style G sounds full and musically rich, and has always been one of the most popular coin-in-the-slot pianos ever manufactured.
Style E and Style G "Nickelodeon" Music
28 Tracks -- Total Time: 51:55
Style E (A-roll piano) -- "The Automatic Master"
1.
You Took Advantage of Me
2.
When You're Smiling
3.
My Cutie's Due At Two to Two
4.
Somebody Stole My Gal
5.
Now's The Time to Fall in Love
6.
I Can't Give You Anything But Love Baby
7.
Stars and Stripes Forever
8.
Shine on Harvest Moon
9.
I'm The Happiest Guy in The World
Style G Orchestrion (G-roll orchestrion) -- "The Art Orchestrion"
10.
March Triumphale
11.
Lantern Of Love
12.
Animal Crackers
13.
Always
14.
Just Around The Corner
15.
Entrance of the Gladiators
16.
Blaze Away
17.
Lights Out
18.
Officer of the Day
19.
Stars and Stripes
20.
The New Colonial
21.
Bye Bye Blackbird
22.
I Scream - You Scream - We All Scream for Ice Cream
23.
I'm Gonna Let The Bumble Bee Be
24.
When the Red, Red Robin Comes Bob Bob Bobbin' Along
25.
Song of the Vagabonds
26.
Talking to the Moon
27.
Here Comes The Show Boat
28.
You Flew Away From The Nest
Listen to a Sample
"SHINE ON HARVEST MOON"