Nickelodeons!
from the Q. David Bowers and
Harvey Roehl Collections (circa 1963)
$10.00
About This Archive CD Recording
Recorded circa 1964, By Terry Hathaway
Several years ago Dave Bowers sent me the no longer wanted residue of papers and ephemera that remained of his extensive history of writing and dealing with automatic musical instruments. In one of the two cardboard boxes, each stuffed tightly with yellowing papers, was the reel-to-reel master tape for the old, long out of print LP album Nickelodeons!, which was a custom pressed 33-1/3 Long Play Vinyl Album released circa 1964. I did nothing with the decaying 1/4-inch reel-to-reel tape for quite some time, but since it was showing definite signs of deteriorating I finally decided to digitize the audio signal and store it for safekeeping on a more stable media. Once this was done, the old master tape, with its magnetic coating flaking off, was put aside and eventually discarded. Then, in November of 2002, I decided to make the old master tape's nostalgic contents available on an Archive CD, also entitled Nickelodeons!, just like its predecessor LP album, so that anyone who remembered the old Nickelodeons! LP could obtain a fresh, tic and pop free version to enjoy.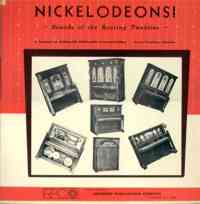 But before the new Nickelodeons! CD would be made ready for release some minor work on the audio signal was deemed appropriate. Tape hiss was removed and minor equalization was applied to compensate for signal roll-off due to the original recording process. Then, because each track on the original master tape began and ended very abruptly, without any attempt to ease into or fade out at the end of each tune, the individual music tracks were trimmed and faded in a more professional manner. Any and all signal processing was carefully done by taking advantage of new computer technology not available when the original Nickelodeons! recording was made, thereby enhancing the listening experience, but without canceling out the tone and character of the original performance, so as to preserve the ambiance typically reminiscent of those early days of coin piano collecting. However, do keep in mind that, while the instruments on this recording generally sound very good, when this recording was made, circa 1963-64, there was no such thing as a meticulous and thorough restoration as measured by today's high standards.
Turning back the clock to 1964, coin operated pianos and orchestrions, although cherished by a few avid collectors, were not considered valuable or worthy of much effort by most people. Generally, people then tended to view such old fashioned devices as nothing more than worthless junk. Anyone who appreciated and collected such things was often considered odd and laughable. This kind of widespread attitude made spending a lot of money on a thorough and meticulous restoration a foolish idea. Thus, only the machines that were mechanically complete and that could be made to function through reasonably simple means were given much time or attention. Thus it is, a few tunes on this CD are rendered in what could be considered less than perfect, but, nonetheless, still consistent with the way such an automatic instrument might have sounded during the early days of mechanical music machine collecting. The worst case scenario is that you will probably find a few tracks on the CD to be humorous, others more musical, and some downright wonderful.
The heyday of the machines featured on this CD range from the early 1900s to the late 1920s, when no place of public entertainment was quite complete unless it had some type of coin-operated automatic musical instrument. They vary in size from a small arcade sized coin-operated cabinet piano to large orchestrions, elaborate mechanisms incorporating many different musical effects and that attempt to simulate an entire dance band or orchestra. Each uses a paper music roll, which could be easily and quickly changed, so as to keep pace with the latest trends in popular music. The specimens recorded were from the collections of Q. David Bowers and the late Harvey N. Roehl, who, at the time, lived near each other in Vestal, New York. All the tracks in the Archive CD remain in the same order as the original vinyl LP, with coin trip sounds (in two of the tunes) kept intact for reasons of ambiance.
Mills Violano-Virtuoso
(from the Roehl Collection)
The Violano-Virutoso featured on this recording is a single violin type (two violin models were also made), containing a real violin with a 44-note piano for accompaniment. The Mills Novelty Company of Chicago, Illinois, manufactured over 4000 of these intricate devices from about 1908 to 1930, and sold them for $2000.00 to $3500.00 each. The Violano-Virtuoso was considered so unusual that King Edward VII of England once commanded that a one be obtained and then played in his presence. In the U.S., the manufacture of a mechanical violin-playing machine was deemed such an important scientific accomplishment by the U.S. patent Office that it was selected as "one of the eight greatest inventions of the decade" when it was exhibited in 1909 at an exposition in Seattle, Washington.
At the time this recording was made the Violano-Virtuoso was generally considered to be little more than a curious novelty, a relic, and not a serious musical instrument. Scant attention was rarely given to really repairing or restoring a Violano, which often required electrical, mechanical and metal working talents and equipment well beyond the scope of the amateur mechanical music enthusiast. Thus, the Violano-Virtuoso's that did still function often suffered from deficiencies, which hindered their ability to perform, but that were enjoyed as novelties nonetheless. The Violano on the recording is one such instrument, that was known to have an electrical short in the main cable bundle, causing two notes to play simultaneously, for instance, making for some noticeable discordance. Today, in stark contrast to the 1960s, Violanos are valuable, sought after items, so mechanical problems once considered negligible would probably not be tolerated by a dedicated collector today. But back in the early 1960s nobody much cared whether a few musical notes failed to work properly, if at all. In fact, it was often the case that the worse an instrument sounded the more public attention it might get. A case in point is a small band organ once on display at the famous Cliff House in San Francisco, California. The little organ was described as "the worst sounding mechanical musical instrument in the world," which ironically made it the most popular automatic music machine in the entire collection, receiving many more visitor initiated plays than any other mechanical music machine.
North Tonawanda Pianolin
(from the Roehl Collection)
The Pianolin, manufactured by the North Tonawanda Musical Instrument Works, North Tonawanda, New York, is representative of a number of small mechanical music machines of this general type, which first appeared in public places about 1900. It is one of the earlier North Tonawanda Musical Instrument Works instruments, and certainly the most successful in terms of the quantities made. This early arcade size coin-in-the-slot cabinet piano plays a 44-note piano (for which Harvey Roehl once remarked that "half a piano was better than none at all") and is accompanied by 44 pipes, consisting of 13 stopped flutes at the bass end of the scale, and 31 violins at the upper or treble end. A single register control actuated by a chain perforation in the music roll turns the pipes on and off. The ragtime razz-ma-tazz Pianolin sound furnished the ideal background music for many busy commercial establishments, such as billiard parlors, penny arcades or shooting galleries.
The Pianolin heard on this recording came from the hoard of derelict route machines discovered in a Providence, Rhode Island, barn during the early 1960s, the whole lot of them seriously neglected and water damaged due to a leaky roof. The Pianolin, restored by Harvey and Marion Roehl, makes this snappy little automatic musical instrument a delightful reminder of the toe-tapping melodies that once graced the arcades and fun-zones across America.
Seeburg Style B Piano -- "The Artistic Automatic"
(from the Roehl Collection)
Coin operated keyboard style pianos of this type incorporated a full-sized upright piano, with a mandolin bar, which, when activated by a special perforation in the music roll, gives the music what many consider to be a honky-tonk sound. The Style B Artistic Automatic was fitted with a colorfully ornate art glass front. In contrast, the nearly identical Seeburg style A coin operated piano (known as The Sturdy Performer) came with a rather simple glass panel in the upper front. Both the Seeburg style A and B pianos were basic coin-in-the-slot music machines, and the most popular type of automatic piano for commercial locations. Such instruments could be found in thousands of places across America. These popular and inexpensive coin-operated pianos used a standard ten-tune, type "A" music roll, which was changed weekly, so as to provide patrons with the latest hit songs. No comprehensive collection of automatic music machines today is complete without at least one of these basic, but very sturdy performers.
Seeburg Style G -- "Art Style Orchestrion"
(from the Bowers Collection)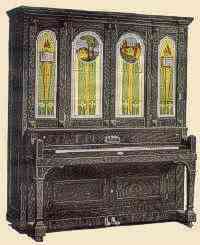 The Seeburg style "G" orchestrion has long been a favorite amongst collectors, and it includes a full-sized piano, with mandolin effect, a rank of 38 wooden violin pipes, a rank of 38 wooden flute pipes, snare drum, bass drum, kettle drum effect, cymbal and triangle. These relatively expensive keyboard style orchestrions were fitted with beautifully colored art glass panels that were lighted from behind when the music played. The Seeburg "G" was well suited for places such as ballrooms, speakeasies, fraternal lodges and restaurants, locations where it could be used in place of a live orchestra. It uses the still admired ten-tune style "G" music roll, which in its heyday was widely distributed and therefore most, if not all, of the era's popular music was arranged and cut on this type of music roll. The relatively small number of Seeburg "G" orchestrions that survive today are carefully preserved in collections as the ultimate in an American made "nickelodeon" type piano.
Wurlitzer Style 12 Mandolin PianOrchestra
(from the Bowers Collection)
Wurlitzer Mandolin and Concert PianOrchestras as a group are the largest orchestrions to be marketed throughout the United States. The style 12 Mandolin PianOrchestra is one of the smallest of the PianOrchestra genre, with a musical compliment consisting of piano, with mandolin effect, 37 wooden violin pipes, 13 orchestra bells, snare drum, bass drum and cymbal. Standing nearly nine feet high and weighing in at approximately 1500 pounds, the style 12 PianOrchestra is surmounted by a peacock "wonderlight" that is fitted with a many faceted mirrored tail. Inside the mirrored tail assembly, and extending toward the back of the machine, is a conical revolving tail piece fitted with glass jewels of various colors. As the music plays the tail is caused to rotate, and by means of an electric lamp placed inside the tail cone, myriad sparkling colors are projected onto the narrow mirrors in the tail assembly, producing a dazzling display of dancing color that is very pleasing to the eye. Another interesting and very useful feature of the Wurlitzer PianOrchestra is the patented automatic roll changer, an intricate mechanical device that holds six music rolls at a time, thereby permitting up to thirty different tunes to be played in sequence without repetition.
Credits:
Supporting information and photographs: Art Reblitz
Corrections: Dick Hack
Nickelodeons!
18 Tracks -- Total Time: 37:04
1.
Entertainers Rag -- Wurlitzer style 12 PianOrchestra
2.
I Can't Give You Anything But Love -- Seeburg A-Roll Piano
3.
Japansy -- Seeburg G Orchestrion
4.
unknown -- Wurlitzer style 12 PianOrchestra
5.
Old Black Joe -- Mills Violano Virtuoso
6.
Wedding Bells Are Breaking Up That Old Gang of Mine -- Seeburg A-Roll Piano
7.
Dance of the Blue Danube -- Seeburg G Orchestrion
8.
Oh, That Beautiful Rag, Rag -- Pianolin
9.
Entry of the Gladiators -- Seeburg G Orchestrion
10.
Washington Grays, March -- Wurlitzer style 12 PianOrchestra
11.
Massa's in de Cold, Cold Ground -- Mills Violano Virtuoso
12.
When You're Smiling -- Seeburg G Orchestrion
13.
Notre Dame Victory March -- Seeburg A-Roll Piano
14.
unknown -- Wurlitzer style 12 PianOrchestra
15.
When You Wore a Tulip -- Seeburg A-Roll Piano
16.
Swanee River (Old Folds at Home) -- Mills Violano Virtuoso
17.
Candlestick Rag -- Pianolin
18.
Stars and Stripes Forever, March -- Seeburg G Orchestrion
Listen to the Wurlitzer Style 12 Mandolin PianOrchestra play: