"Katy Lou"-America's Finest Carousel Music
$7.50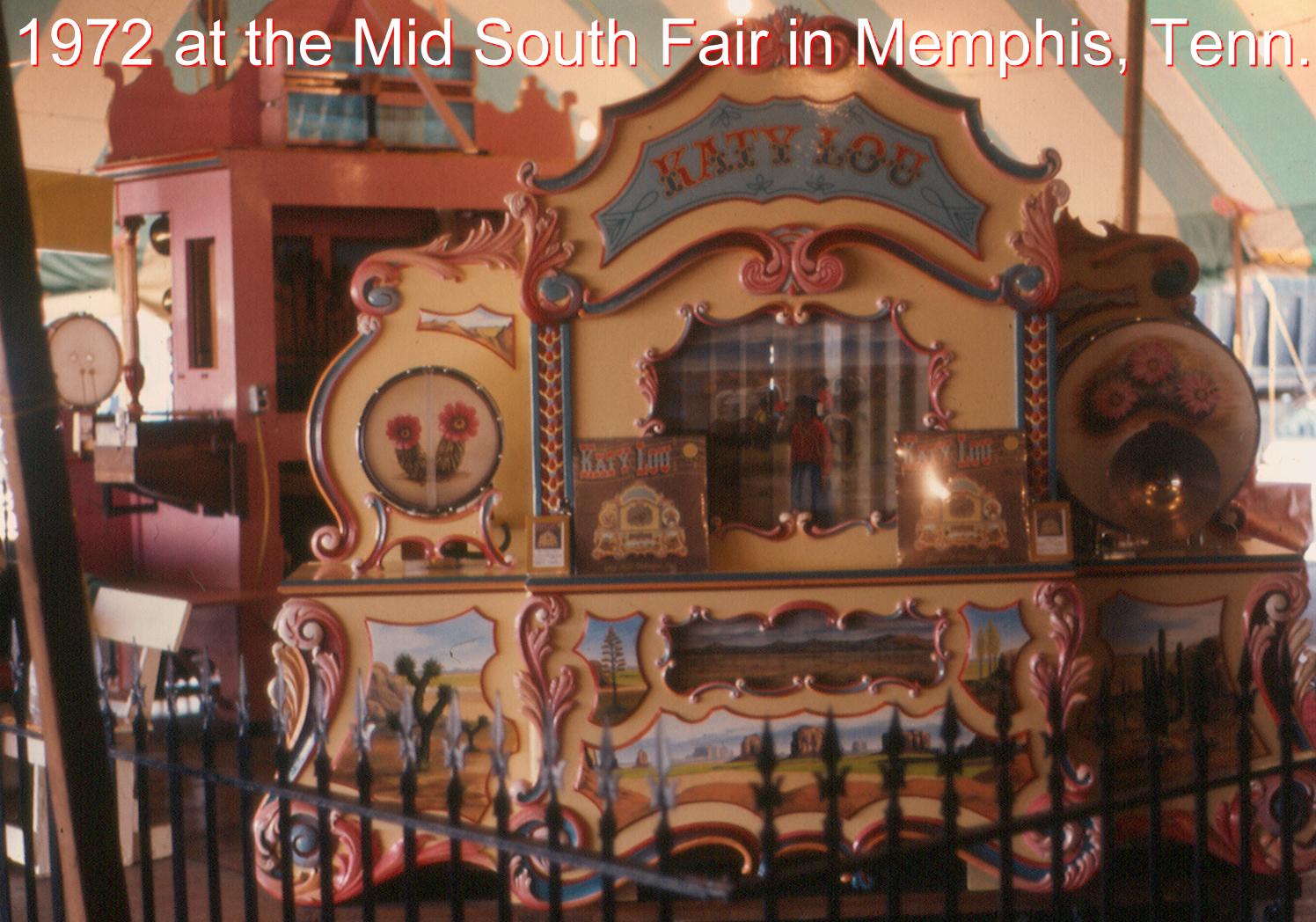 KATY LOU is a delightful Wurlitzer Style #153 Duplex Orchestral Organ. This type was used on three-abreast carousel's, in open dance pavilions, skating rinks, and other amusement areas.
KATY LOU is painted in a myriad of bright colors with beautiful desert scenes on the facade. The scroll work is hand carved and painted in the colors of the flowers and cacti of the desert and the bright blue of the southwestern sky. Decorative screens in front of the louvers and bar-bells depict a native American scene, and a lonely wagon trail disappearing towards the distant mountains. Raised panels on the side wings are adorned with picturesque Saguaro cactus, Joshua trees, Ocotillo and Yuccas. Other panels sow quiet desert and mountain scenes.
The machine was made by the Wurlitzer Company of North Tonawanda, New York. It has 54 Keys and plays from paper rolls of music. The organ was used for many years in the Midwest in an amusement park and then had been stored for years until Paul Eakins purchased and painstakingly restored it. The scroll work was carved by hand and the badly damaged and punctured screens were replaced with stainless steel screens. Many hours were spent in completely restoring the machine, along with the voicing and turning of the pipes. According to the original Wurlitzer catalog, it has duplex long roll Tracker Frames and latest drums with self-tightening tension rods.
Height, with front, 7' 1"; without front, 5' 2".
Width, with front, 8' 8"; without front, 4' 2 1/2".
Depth, with front, 3' 8"; without front, 2' 7 1/2".
Weight, packed for shipment, 1,300 lbs. Requires 1/2 H.P. Motor to operate.
INSTRUMENTATION:
Basses:- 3 Wooden Trombones; three 8-foot Stopped Diapason; three 4-foot Open Diapason; Three 2 foot Stopped Diapason.
Accompaniment:-9 Stopped Flute Pipes; 18 Violin Pipes.
Melody:- 16 Stopped Flute; 16 Octave Violin; 15 Wooden Trumpets; 15 Cello Pipes; 32 Violin; 16 Open Flute; 15 Stopped Pipes; 16 Bell-Bars
Traps:- Bass Drum, Snare Drum, and Cymbal.
Automatic Stops:- 1 for Octave Violin; 1 for Open Flute; 1 for Cello Pipes; 1 for Stopped Pipes; 1 for Bell-Bars; 1 for Swell Shutters.
1. OVER THE WAVES
2. DARKTOWN STRUTTER'S BALL
3. AFTER THE BALL
4. ARMY AIR CORPS MARCH
5. THE MAN ON THE FLYING TRAPEZE
6. BLUE SKIRT WALTZ
7. BEER BARREL POLKA
8. THE MARINE'S HYMN
9. MY WILD IRISH ROSE
10. THE GALLANT SEVENTH
11. THE SIDEWALKS OF NEW YORK
12. LITTLE ANNIE ROONEY
13. SWEET ROSIE O'GRADY
14. THE BLACK HORSE TROOP
15. KING COTTON
16. WASHINGTON POST MARCH
17. I WONDER WHO'S KISSING HER NOW
18. SCHOOL DAYS
19. OFFICER OF THE DAY
20. BARNUM AND BAILEY'S FAVORITE
21. OVER THERE
22. THE MERRY GO ROUND BROKE DOWN
23. THAT'S OUR DESTINY
24. WINGS OF GOLD
25. SEMPER PARATUS
26. WOMAN OF THE YEAR
27. KISS ME AGAIN
LISTEN TO SAMPLE SELECTIONS FROM THE CD.
"THE ARMY AIR CORP"
"OVER THE WAVES"
"DARKTOWN STRUTTER'S BALL"
"SIDEWALKS OF NEW YORK"